Most revenue teams have more prospects in their CRM than they can handle. The problem, frankly, is not building up contact lists—the problem is maximizing the pipeline to identify the best prospects and engage them effectively.
The sub-par prospects that clog your pipeline still consume resources but are more unlikely ever to close. If they do close, they're less likely to renew or become your best customers.
Our research at Rev shows that only 18% of most companies' pipelines actually match their ICP. Meanwhile, up to 65% of five-star opportunities get straight-up missed.
Those averages are outstanding in baseball, but horrendous in your revenue functions. The culprit? Most companies don't actually know what their real ideal customer looks like. Their ICP is incomplete. And if they can't identify their best prospects, they certainly won't connect with them.
Developing a high-quality, high-efficiency pipeline starts with improving the fitness of your prospects—and your aim in targeting them. After all, your aim—the percent of accounts in your pipeline that match your ICP—matters, and it should be a key metric you track. When you spend more of your resources engaging with the right prospects, the ones most likely to close and become great customers, the entire journey downstream runs more smoothly. What company doesn't need that, especially today?
If you're wondering how to track your aim and how to improve it, you're in luck. This article will guide you through everything you need to know to get started.
Step 1: Identify the characteristics of your best customers
When you think about your best customers, what traits come to mind? Too many revenue teams still rely on firmographics to understand the traits of their best customers. Broad categories like industry, location, size and revenue don't actually reveal much about the inner workings of companies and how they execute their missions.
B2C companies have been riding this train for years now. They moved beyond demographics to psychographics to better predict what individual customers want to buy. In the B2B world, you need equivalent insights to really understand your best customers (and, in turn, your best prospects). 
Exegraphics provide those demand signals. They are, essentially, any piece of information you could want to know about a company, gleaned through AI-driven analyses in three ways.
Exegraphics focus on a company's positioning in its industry and the value it brings to market.

Exegraphics also evaluate the functions of the people internal to an organization, including how those functions are prioritized.

Exegraphics then account for trends over time to better predict where a company is headed.
Exegraphic data digs beyond superficial indicators to evaluate broad organizational behaviors and patterns. You might have two companies that appear identical on the outside: same industry, comparable products, equivalent workforce. Yet they might operate entirely differently on the inside—and those inner workings effectively make them completely different customers.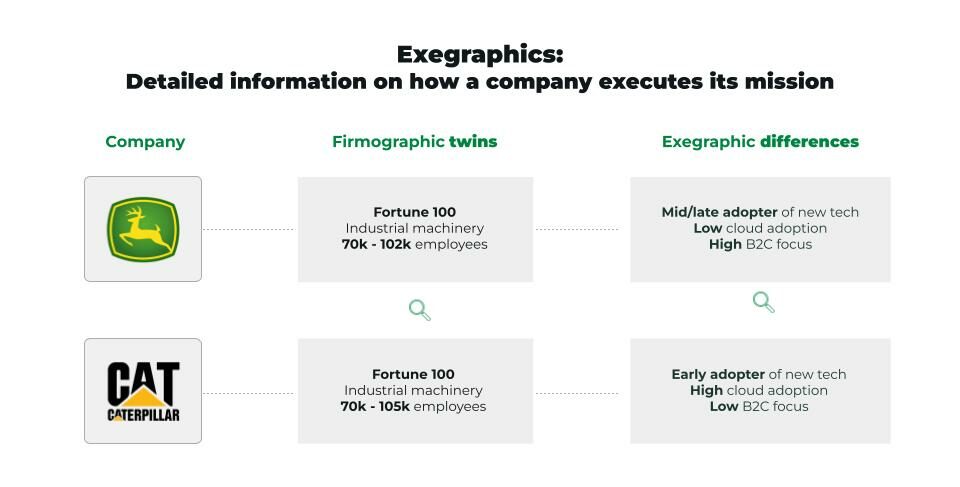 Evaluating your existing best customers in these ways helps you understand what really makes them tick, and thus, what you really want to look for in a top prospect.
Step 2: Build a dynamic ICP
Exegraphics are precise data points. Any one of them, taken in isolation, may not mean much. But a collection of hundreds of exegraphics accomplishes what a traditional ICP hopes to: it builds a complete and thorough picture of how your actual best customers behave, and what they are most likely to need.
Even better? Exegraphics, by their very nature, enable revenue teams to create dynamic ICPs that continuously improve. (At Rev, we call these aiCPs—AI-driven ideal customer profiles.) These are ICPs that embody the current and ever-changing behaviors, strategies, attitudes and events (such as personnel and product changes) of your ideal customers.
Plus, each time you sign a new customer, or an existing customer expands its account, that customer's exegraphic data feeds back into the model to better define what ideal means for you.
No more of the old-school, stuck-on-firmographics ICP on a PowerPoint slide that you update every few years. Equipped with a dynamic ICP, revenue teams know (essentially in real time) how their best customers behave—and what to look for in new prospects.
Step 3: See which accounts in your pipeline have the characteristics you care about most
Now that you know what your ideal customer really looks like, and have a living model in place that evolves over time, you're ready to see how many of the accounts in your pipeline fit your ICP. In our experience working with some of the world's top brands, it's much less than you think.
When you evaluate the exegraphic markers of the accounts in your pipeline and compare them to your now-full-picture ICP, you'll have an aha-moment. You'll see why certain accounts got stuck in your pipeline with little to no progress. You'll also see accounts that show more promise, that have leading characteristics of an account that will make its way to closed-won. Those are the accounts you'll know to prioritize.
When you can see how closely accounts in your pipeline match your ICP, you're able to take a data-driven approach to seal the deal. Accounts that are a clear match to your ICP could be routed to sales, while accounts with a lower match rate could be placed in a nurture track. The accounts that don't have matching traits? Toss those. You don't have time or budget to spend on them.
Step 4: Find new accounts that match your ICP
Now that you have fewer accounts in your pipeline, what do you do? And how do you fill it moving forward?
Volume still matters, yes. But it really needs to be more of the right stuff. More quality targets. You probably get where we're going with this, and you're likely saying to yourself, "Got it… but how do I find accounts that have the deep traits I care about most? If I knew how to spot them, they'd already be in my queue."
Great point. You could try to do it manually: hire a dedicated team to determine the exegraphics behind your best customers, build a more robust ICP and evaluate the exegraphic data behind all the accounts in your pipeline. By the time they're done running the analyses, though, the data has probably changed. Luckily, AI can tackle this workload almost immediately. It's great for pattern matching across large data sets and language models—including all sorts of digital "breadcrumbs."
AI can also tell you which companies match your ICP, and how closely. No more going after big, aspirational logos just to have them clog your pipeline. By using AI to find the accounts that resemble your best customers, you'll always know which accounts to target, and when.
Step 5: Improving metrics through better aim
When companies improve their targeting efficiency through the use of exegraphics and aiCPs, they don't just get better prospects in the funnel—they get improved results the entire way through it.
Engagement case study: Allytics
As a Central Marketing Organization (CMO) for its clients, managing everything from strategy to implementation with an eye on improving their marketing ROI, Allytics requires strong engagement on behalf of all of its customers: growing account lists, acquiring new leads, expanding pipelines for marketing and sales.
To those ends, Allytics have partnered with Rev for more than three years to support deeper lead qualification, target market expansion and nurture campaigns for their clients, with the aid of exclusively tailored Custom Lenses.
"We can come in with any angle and Rev builds a lens for us that helps our clients increase their pipeline growth by providing unique and specific targeted insights," says Allytics President Dunya Riechelson. "This gives us clear direction and quality results."
For Allytics, Rev's Sales Development Platform expanded several clients' account bases by more than 20% through lookalike targeting, providing access to a stronger pool of leads with higher levels of engagement.
VP of Marketing Services Robert Doi says: "Rev's technology makes them a perfect partner to help our clients increase both the quality and velocity of new potential customers, closing more deals."
And that's not all. Allytics also saw a 50% decrease in time to find qualified leads.
Case study: Splunk
When Splunk acquired another company in the DevOps space, it set out to run a demand gen campaign to prospect for it. Splunk had developed an extensive ABM list and inherited a seed list of the acquisition's best customers, but still struggled to gain traction and add quality prospects. 
Rev created an aiCP for Splunk, prioritized the list and ran a content syndication campaign.
Not only did the campaign result in sourcing the quality prospects Splunk desired, but it also revealed that the companies showing intent previously were not actually best-fit prospects. They were draining revenue resources with a lesser likelihood of actually closing.
Splunk's new aiCP enabled them to prioritize the account list and focus marketing efforts. According to Joe Paone, Sr. Director of Worldwide Commercial Marketing, more than 15% of the pipeline can now be attributed to the aiCP, with increased pipeline revenue of more than $500 million.
 Did we mention they saw these results in less than 3 weeks?
Final thoughts: Keep on evaluating your pipeline
Once you achieve a stronger sense of your own ideal customers on an exegraphic basis, you can make a pretty immediate and drastic evaluation of your existing pipeline.
If you align with the averages, your revenue team isn't even touching about 2/3 of the prospects in the pipeline. Imagine assessing the entire pipeline for the best-fit prospects—the ones most likely to close, and to become great customers—and being able to pluck those targets out of the crowd.
You can. And you can evaluate how you're filling the pipeline based on what percentage of the prospects there match the characteristics that matter most to you. These are the metrics that can change the game for revenue leaders: early indicators of your revenue teams' operational efficiency and ultimate success.
Doing so not once, but continuously, calibrates your teams' efficiency and your pipeline's quality. As Allytics' Richelson says: "Quality is a focus from end-to-end through every touch point in the engagement. And, because the AI gets smarter over time, we can optimize as we go."
As you need to pivot in an ever-changing market, exegraphics and aiCPs equip you to constantly refocus your aim and maximize your efforts. After all, your objectives aren't static. Your approach doesn't have to be, either.
These pipeline pain points are a universal experience, but they can be addressed head on by revamping how you think about your ICP and changing the way you identify and source top prospects. Get started on improving your aim. See you how your aim stacks up against others—and what you can do to improve it.