Revenue operations (RevOps) is all about optimization—whether that means improving sales cycles, analyzing customer data to understand their needs and preferences better, or developing effective lead generation strategies. 
As such, you'll need a team of skilled professionals with a range of expertise in go-to-market strategies. This team will tackle everything from marketing and sales to finance and customer support.
But depending on the size and resources of your organization, creating the optimal RevOps team structure can be tricky. How do you set clear objectives for your team? Which roles are needed to achieve those goals? What tools will the team need to be effective? And what are the benefits of revenue operations teams in the first place?
This guide will explore all these questions and more. It will also provide you with everything you need to know about building a high-performing revenue operations team.
Here's a quick overview of what you'll learn:
The core goals and KPIs of a RevOps team 

How to create a revenue operations org chart 

Examples of how to write revenue operations job descriptions 

The essential tech stack for revenue operations teams
Let's get started!
What are the core goals and KPIs of a RevOps team?
You have two main options when it comes to building a revenue operations team:
Establish a RevOps team within your organization, recruiting members from existing departments such as finance, sales, marketing and customer service to take on new tasks and responsibilities related to revenue generation.

Create a dedicated RevOps function from scratch, building a team solely responsible for all revenue-related tasks and decisions within your organization.
The option you choose will depend on several factors, such as your organization's size and structure, your available resources and your team's level of experience with revenue operations.
Either way, the core goals and KPIs of your RevOps team will be to:
Streamline and coordinate revenue generation activities, processes, and goals across all departments and functions

Increase visibility into revenue performance, sales pipeline health, marketing operations, customer lifetime value and more

Monitor metrics and KPIs, such as monthly recurring revenue (MRR), customer churn rate, average revenue per user (ARPU) and more
Achieving those goals will take a collaborative effort across various functions within your company. So, whether you're building a team from scratch or recruiting members from within your organization, it helps to start by creating a revenue operations org chart to identify the key roles and team hierarchy.
How to structure your RevOps org chart
Since revenue operations is still a relatively new field, there is no one "right" way to structure your team. However, it's essential to establish a hierarchy of roles so that there is clear ownership and accountability for revenue-related tasks.
You will typically have a revenue operations leader at the top of your RevOps organizational chart. For this role, you'll look to hire someone with a background in revenue management or sales operations, who can effectively manage and lead a team. Typically, this person's title will be Director or VP of Revenue Operations.
Below the VP of RevOps, your org chart will typically have senior-management positions like Sales Ops, Marketing Ops and CS Ops. The people in these roles will work closely with the departments they support and ensure that all revenue-generating teams are aligned and working effectively.
Depending on the size of your organization and team, your organization's revenue operations team structure may also include specialists in areas like sales enablement, product management, financial analysis, customer success operations and more. These specialists will take on specific tasks or projects within the RevOps team, such as optimizing the customer onboarding process or tracking product usage metrics.
Here's an example of an org chart that follows this revenue operations team structure: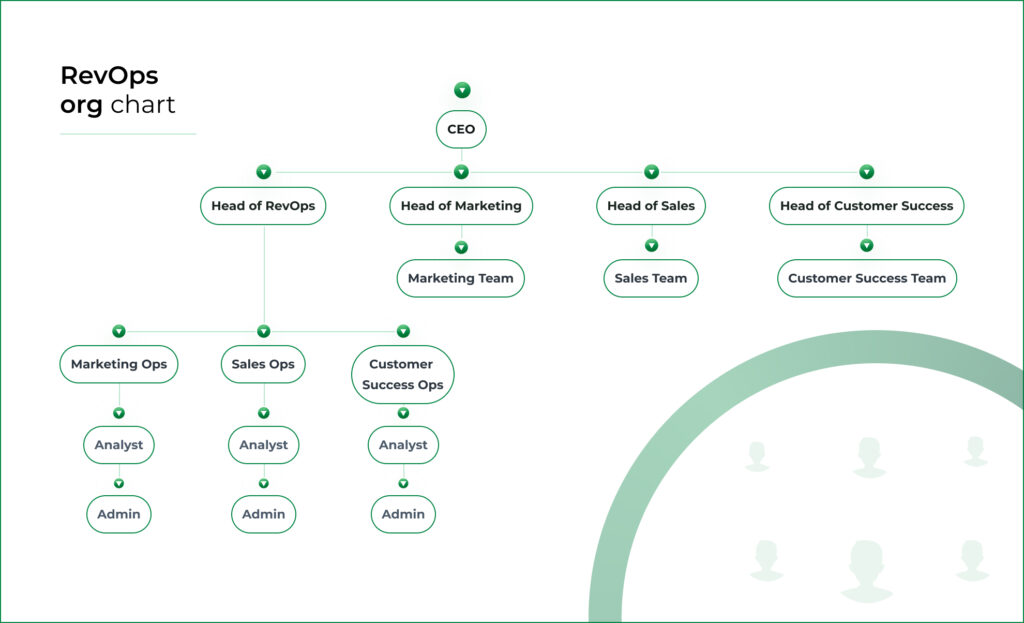 After creating a RevOps org chart specifically for your organization, you may find that you'll need to recruit new talent or cultivate certain skill sets within your team.
The following section will share examples of job descriptions you can use during your hiring process or when outlining the skills required of your employees that will transition into these roles.
RevOps job description examples
Writing a job description for a revenue operations role can be challenging, as you must find candidates with technical and business acumen. The following are examples of job descriptions for two key roles you may need to fill to create the optimal RevOps team structure.
VP of Revenue Operations job description example
The VP of Revenue Operations (RevOps) will drive revenue growth strategies across sales, marketing and customer success. The ideal candidate will have strong leadership skills and experience managing a revenue-focused team. Reporting directly to the CEO, the VP of Revenue Operations will also work closely with other department heads to ensure our RevOps team has the necessary resources and support to meet revenue goals.
Some of the other key responsibilities for this role include:
Defining and implementing a revenue operations team structure that is optimized for performance and efficiency

Providing strategic direction for RevOps initiatives and collaborating with other departments to ensure alignment with overall business goals

Identifying the right tools and technologies to support revenue operations, such as CRM software, marketing automation platforms and analytics tools

Maintaining strong relationships with stakeholders across the organization and working closely with them to achieve revenue targets

Overseeing revenue performance and identifying areas where improvements can be made to maximize revenue growth

Forecasting revenue and creating strategies to meet revenue targets in the face of changing market conditions

Defining KPIs and tracking performance against targets to identify areas for improvement
What we're looking for:
10+ years of experience in a leadership role within an enterprise organization, dealing directly with driving revenue through sales, marketing, customer success and/or operations

Extensive knowledge of all aspects of revenue operations, including marketing automation platforms, analytics tools and stakeholder relationship management

Strong analytical skills, with a demonstrated ability to analyze large amounts of data and identify key trends that can be used to improve revenue performance

Excellent communication skills, with the ability to work closely with different teams and stakeholders across the organization

Strong organizational skills and attention to detail, with the ability to effectively manage multiple projects at once

Proven track record of success in driving revenue growth through effective revenue operations strategies and tactics
RevOps Analyst job description example
The Revenue Operations Analyst will be responsible for supporting the growth and development of the revenue operations team by building effective processes and systems to enable data-driven decision-making, collaborating with other teams and stakeholders, and managing key metrics.
Some of the other key responsibilities for this role include:
Identifying and implementing tools and systems to effectively manage revenue operations processes, including data collection, analysis, forecasting and reporting

Developing and maintaining team budgets, including budgeting for software licenses, marketing campaigns, employee resources and other expenses

Collaborating with other teams and stakeholders, such as sales, marketing, finance, product development and IT, to ensure goals are aligned with overall company and departmental objectives

Managing relevant metrics, such as customer lifetime value, churn rate and net revenue, to help identify areas for improvement and track overall team performance

Using financial dashboards, reporting tools, and other analytics software to gain insights into performance and identify trends or patterns that could impact revenue generation

Establishing best practices for RevOps, including forecasting, pricing optimization strategies and automation processes
What we're looking for:
4+ years of experience in RevOps or a related field

Strong analytical and problem-solving skills, with the ability to think critically and make data-driven decisions

Experience working with a variety of revenue operations tools and platforms, including CRM systems, marketing automation software and financial reporting dashboards

Proven track record of delivering revenue growth and increasing operational efficiency in a fast-paced environment

Ability to collaborate effectively with diverse teams and stakeholders, including sales, marketing, finance and IT
Essential tech stack for the optimal revenue operations team structure
Another component of a high-performing RevOps team is having the right tools and technology to streamline processes and collaborate effectively.
Some essential tools in the tech stack for revenue operations include:
Customer relationship management (CRM) system:

A CRM, such as Pipedrive, is key for tracking and managing customer data and interactions, as well as automated lead scoring and nurturing.

Project management software:

Project management software such as Asana can help team members stay organized and on track with their work.

Data analytics tool:

A data analytics tool such as Tableau can help revenue operations team members gain valuable insights into customer behavior, marketing effectiveness and more.

Marketing automation software:

Marketing automation software such as Pardot can help increase efficiency and automate marketing efforts, from lead generation to nurturing and conversion.

Sales Development Platform:

A

Sales Development Platform

like Rev is another essential tool for RevOps teams, as it streamlines the process of identifying

new market segments

, targeting accounts with a high propensity to engage, reducing churn and driving predictable revenue growth.
Work closely with your revenue operations team members to determine which tools best suit your specific needs and goals. Investing in the right technology can help ensure that your team can achieve maximum success, generate revenue and drive real results for your organization.
Final thoughts
Establishing the optimal revenue operations team structure is about having the right people, processes and tools. By focusing on these key factors, you can set your RevOps team up for success and help drive long-term revenue growth for your organization.
Want to hit the ground running with your RevOps team? Contact Rev to get a free prioritized list of high-fit target accounts that resemble your best customers.